Experience Canada's #1 Facial
Experience Canada's #1 Facial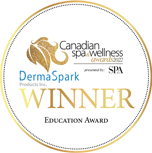 DermaSpark has won the Canadian Spa & Wellness Education Award
Experience the 3-in-1 super facial professionals are calling better than microderm. Incorporating patented OxyGeneo™ Technology for unparalleled skin nourishment & oxygenation, see younger looking skin after your first treatment.
Find an Authentic OxyGeneo™
Location
Near You
WELCOME TO THE AUTHENTIC OXYGENEO® 3-IN-1 SUPER FACIAL!
Please note that DermaSpark® is the Canadian exclusive representative of Pollogen® by Lumenis® the exclusive manufacturer of the authentic OxyGeneo® 3-in-1 super facial®.
Be aware of online scammers that try to sell fake, illegal and unlicensed devices that are hazardous and dangerous for human skin!
Enjoy an authentic OxyGeneo® 3-in-1 super facial treatment in a certified location near you
OxyGeneo® Glam – Pure Gold Facial
A luxurious treatment that provides a firming effect and enhanced hydration; based on pure gold and premium ingredients.
Restore tightness, smooth wrinkles, reduce dark spots and the complexion is left looking even, plump and radiant.
The OxyGeneo® Detox OxyPod®
The OxyGeneo® Detox OxyPod®, Best for skin detoxification,
removes toxins and impurities from the skin, prevents oxidative stress and repairs the skin barrier defense system.